With KJV Study Bible app, you can dive into the Holy King James Version of the Bible wherever you go. It contains more than the text, it includes commentaries in every verse of the Bible written by the American theologian Cyrus Ingerson Scofield, a perfect tool to help people understand the Bible.
Cyrus Ingerson Scofield was the author of a version of the Bible known as the Scofield Annotated Bible, which contains a wealth of explanatory notes.
⁎ Download the most popular translation of the Bible, KJV and enjoy commentaries and notes explaining the meaning of passages and verses of Scriptures.
⁎ Offline use and totally free
No internet? No problem at all. You can use the Bible anywhere you go.
⁎ Audio Bible: listen to the scriptures
Adjust the tone and volume of the audio and enjoy listening to your favorite verses while travelling, working or resting.
⁎ Friendly and easy navigation interface
⁎ Sub-headings and keywords to search in the Bible (find verses or books related to the topics of your interest)
⁎ Memorize and remember the last read Bible verse.
⁎ Customize your Bible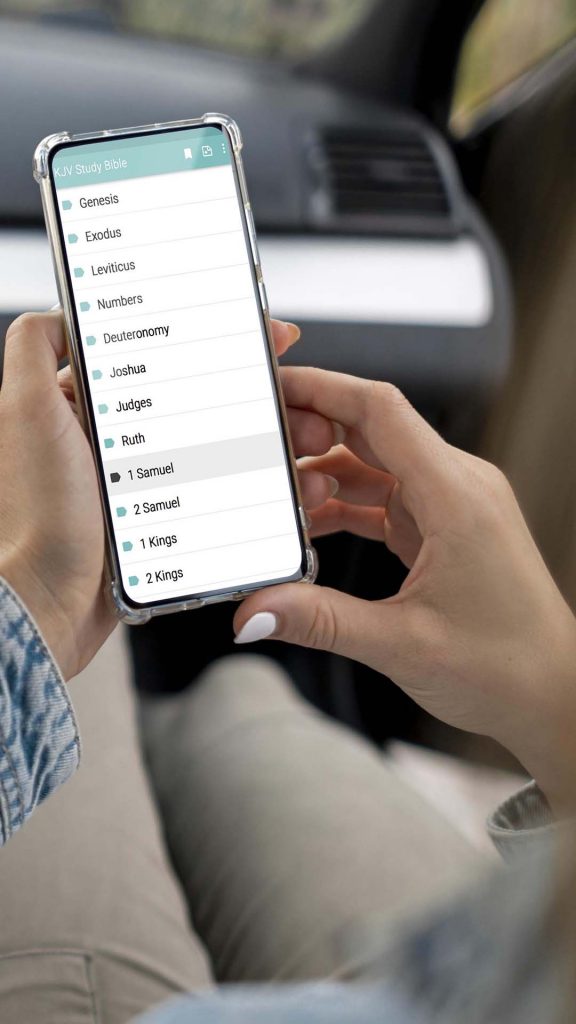 You can highlight and bookmark different portions of the Bible
Create a list of favorites
Add notes
Text font size adjustment
Apply night mode and darken the screen for better readability
⁎ Share Bible verses on social networks
Create your own photos with biblical passages to post on networks, share verses directly or send them by email, WhatsApp or SMS
⁎ All these features work offline. Download now KJV Bible Study, it will be your favorite app.
⁎ The Bible is divided into two parts: Old and New Testament:
Old Testament:
Books of the Law (or Pentateuch): Genesis, Exodus, Leviticus, Numbers, Deuteronomy.
Historical Books: Joshua, Judges, Ruth, First Samuel, Second Samuel, First Kings, Second Kings, First Chronicles, Second Chronicles, Ezra, Nehemiah, Esther.
Poetry books (or The Writings): Job, Psalms, Proverbs, Ecclesiastes, Song of Solomon.
Books of the Prophets: Isaiah, Jeremiah, Lamentations, Ezekiel, Daniel, Hosea, Joel, Amos, Obadiah, Jonah, Micah, Nahum, Habakkuk, Zephaniah, Haggai, Zechariah, Malachi.
New Testament:
The Gospels: Matthew, Mark, Luke, John.
Acts of the Apostles
The Epistles: Romans, 1 Corinthians, 2 Corinthians, Galatians, Ephesians, Philippians, Colossians, 1 Thessalonians, 2 Thessalonians, 1 Timothy, 2 Timothy, Titus, Philemon, Hebrews, James, 1 Peter, 2 Peter, 1 John, 2 John, 3 John, Jude.
-The book of the end: Revelation.